Thanks to Google Maps, we know that North Korean leader Kim Jong-il has an awesome swimming pool, complete with a bitchin' water slide: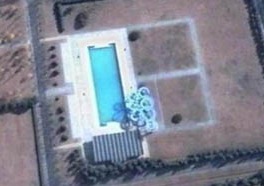 (click to see it on Google Maps)
But Google Maps also shows us the cost of excess.
(click to see it on Google Maps)
This is a very small sampling of the mass graves resulting from the 1995-1998 famines (the "Arduous March") that killed around two million people.
This hellish tour of North Korean is curated by Curtis Melvin, a PhD candidate who, along with a few fellow investigators, has spent the last two years annotating the maps of North Korea in Google Earth. He was recently profiled in a fascinating Wall Street Journal article.
Go to Curtis Melvin's site to download the incredible kmz file which will open up in Google Earth if you have it installed.