We're off to London with the McCubbins for a vacation and for GECCO 2007! At least, we hope the McCubbins are coming — they filed for their passports seventeen weeks ago, and as of today (the day before our flight leaves for London), they still have not received their passports! Can you believe it? Thank you, U.S. Government, for making it harder to leave and return to the U.S.
Seventeen weeks. The State Department guidelines have always said 10 to 12 weeks, tops, for non-expedited passports. Gah! There's a good chance they will get them in time today, since they've gone down to the passport office in D.C. directly. We're crossing our fingers.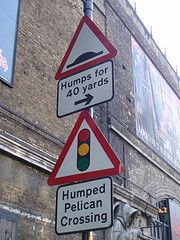 London, home of hump signage.
Hopefully, the recent drama in London won't affect us. Our apartment is about 5 miles from where the first bomb was found.
The final, slightly less boring version of my poster for the GECCO poster session is available here: poster-final.pdf (supplement: poster-supplement-final.pdf).